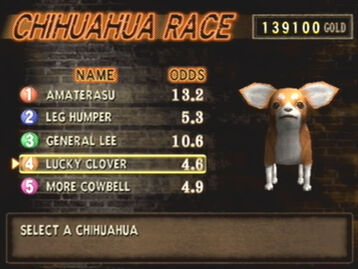 The Chihuahua Race is a minigame that you unlock after beating stage 2.
Depending on how low the number of the odds are,the more likely it is for the chihuahua to win.
The money you win is Money Bet x Number of Odds,meaning if you pick a chihuahua wich is unlikely to win and he wins,you will get more money than a chihuahua that is very likely to win.
Ad blocker interference detected!
Wikia is a free-to-use site that makes money from advertising. We have a modified experience for viewers using ad blockers

Wikia is not accessible if you've made further modifications. Remove the custom ad blocker rule(s) and the page will load as expected.